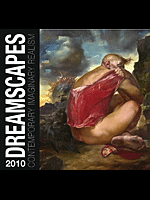 Dreamscapes 2010
This beautiful new Dreamscapes book shows 67 international contemporary masters of Imaginary Realism. This book is a "must have" for lovers of Magic Realism, Surrealism and Fantastic Realism. The books shows more then 200 recent artworks of the following artists:
Adam Scot Rote - Ans Markus - Arnold Jongkind - Bas Sebus - Benedetto Fellin - Bodi - Christophe Vacher - Daniel Merriam - David M. Bowers - Don Clarke - Frank C. Hauser - Gerard Di Maccio - Gerd Bannuscher - Gil Bruvel - Helene Terlien - Herman Smorenburg - Hernan Valdovinos - Igor Grechanyk - Imke Meester - Jake Baddeley - Jan Tervoort - Jean Thomassen and many others.
Dreamscapes 2009

More then 50 international artists are featured in this wonderfull book. A must for lovers of Magical realism, Surrealism and Fantasy art.
Lukas Kandl, Ans Markus, Oliver Zappelli, Michael Parkes, Hélène Terlien, Boris Shapiro, Wim Keunen, Steven Kenny are some of the artist featured.
You can order this book for € 35,00 (+ € 12,00 P&P signed mail) by sending a email to helensart@hotmail.com.